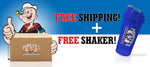 Free Shipping (within Calgary) and Shaker for orders over $149
Sale

PharmaFreak

PharmaFreak RIPPED FREAK™ RIPPED FREAK™ is the world's first and only Hybrid fat burner! RIPPED FREAK's Hybrid formula addresses every major fat-lo...

View full details

Sale

PharmaFreak

Clinically-Researched Ingredients 1,100mg of Fenugreek Per Serving! 1,000mg of Tribulus Terrestris!