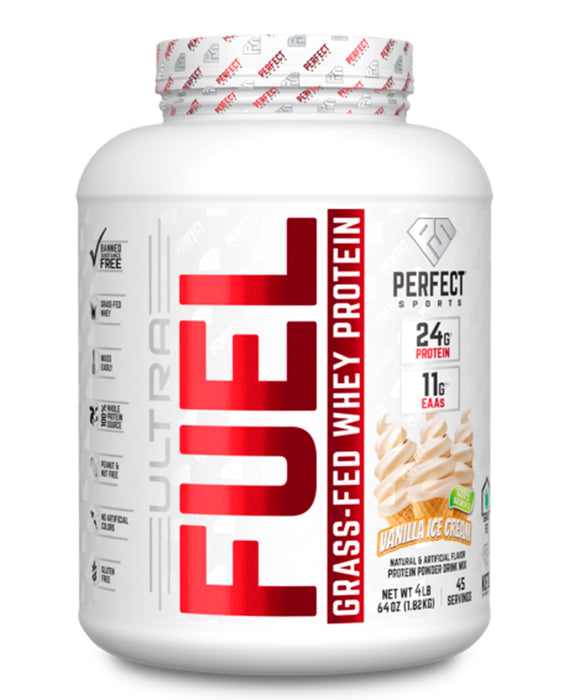 FUEL YOUR GOALS WITH 24G OF PURE PROTEIN
FUEL your gains with protein purity that includes 5 g of BCAAs with 11 g of EAAs in every serving! Our protein comes from grass-fed whey protein concentrate with no aspartame and no artificial colours, and it's low in carbs, making it Keto Approved.
WHY ULTRA-FUEL?
We wanted to make your protein choice simple. ULTRA•FUEL 100% Grass-Fed Whey Protein delivers a pure protein that checks all the boxes with simple, easy to understand ingredients. It's easy to mix and tastes great. And with 24 grams of pure protein† and less than 2 grams of carbs, you get a pure, concentrated protein without all the carbs and fat normally found in milk. From the makers of DIESEL New Zealand Whey Protein, you know that ULTRA FUEL has to measure up.
UNDENATURED PROTEIN = BETTER PROTEIN
Cold-temperature cross-flow micro-filtration effectively concentrates the protein while maintaining its original native shape and function. These naturally occurring whey protein fractions indicate that it's in its native form and has not been deformed by excessive processing such as heat, acids or enzymes.
WHY IS ULTRA•FUEL WHEY PROTEIN SO GOOD?
Amino Acids are what every protein is made of. ULTRA•FUEL protein is a 100% complete protein that is high in EAAs (the essential amino acids) and BCAAs (the aminos that support muscle). We show you the typical profile of every amino acid so you can see how good ULTRA•FUEL is!